Scrambled Eggs on Blackstone
Cooking eggs on a Blackstone griddle is easy and delicious! The large flat top surface makes it easy to have scrambled eggs in just a few minutes. Start by seasoning griddle with olive oil or butter. Crack eggs in a bowl and add a little salt and pepper. Whisk to combine. Add a tablespoon of milk for every 2 eggs to make the eggs cook up light and fluffy.
Serve scrambled eggs for breakfast or brunch. Cook a small amount or for a large amount for a family or group. You can cook several breakfast recipes on the griddle and they all get done at the same time. Everyone sits down to enjoy a hot meal together!
Blackstone Scrambled Eggs Ingredients
Eggs (Small, medium or large eggs; white or brown eggs)
Milk (To Make Fluffy)
Salt
Pepper
Olive Oil or Butter for Seasoning
Cooking Eggs on a Blackstone Griddle Directions
Mix eggs, salt, pepper and milk together in a large mixing bowl using a whisk to stir until smooth.
Heat griddle on low to 350°F and smooth olive oil or butter over the flat top surface.
Pour eggs onto hot griddle.
Use a spatula to stir and turn eggs over as they cook. Cook until light and fluffy.
Remove eggs from griddle and serve them hot with your favorite breakfast recipes. See our post for Blackstone Breakfast Recipes for great ideas to cook on the Blackstone.
What Temperature to Scramble Eggs
Preheat the griddle on medium to a temperature of 350 degrees. Add olive oil or butter to season the griddle and prevent eggs from sticking.
Serving Suggestions
Blackstone Bacon is one of our favorite breakfast meats to cook on the griddle. It only takes about 10 minutes and you can cook a few slices or a whole package at once. The grease drains into the container at the back of the grill for easy clean up.
For a sweet side, try Blackstone Smashed Cinnamon Rolls. They are easy to prepare and frost right on the griddle so they are ready to serve with the whole meal at one time.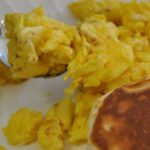 Print Recipe
Cooking Eggs on a Blackstone
Scramble eggs on your Blackstone griddle, other brand griddle or electric griddle. Add a little milk to make them fluffy. You can add shredded cheese to make cheesy scrambled eggs. Ready to eat in about 10 minutes.
Ingredients
1

tbsp

olive oil

(or other oil such as avocado or canola for coating griddle)

½

cup

shredded cheese

(optional; cheddar or Mexican mix cheese is delicious )

¼

tsp

salt

2

tsp

milk

4

medium

eggs

(Adjust number of eggs for servings needed: about 2 eggs for each person.)
Instructions
Apply a thin layer of oil to cooking surface.

Preheat griddle to medium heat or about 350°F.

Crack eggs into a medium size bowl.

Add milk to make the eggs light and fluffy.

Whisk together for about a minute until mixed well.

Add cheese if desired and mix well.

Pour egg mixture onto hot griddle. It will spread out in a flat layer and that is fine. You will let it cook a little until it starts to firm then use a spatula to push it in a pile and cook.

When mixture sets, use a spatula to push eggs to a circle in the middle of the cooking area. Continue to gently scrape and push eggs around and flip over to cook for about 5 minutes until eggs are done. They will look fluffy and slightly moist.

Remove from griddle to serving plate and enjoy!
Notes
Nutritional values are an estimate and vary according to ingredients used.
Milk helps make the eggs fluffy.  You can use water if you don't have any milk.
Be sure to oil the griddle first so the eggs don't stick.  You can use butter instead of oil if you prefer.
Nutrition
Serving:
2
eggs
|
Calories:
172
kcal