Enjoy summer's fresh purple hull peas prepared using an Instant Pot. It is extremely easy, healthy, and tastes delicious!
How to Make Fresh Purple Hull Peas in the Instant Pot
Nothing beats the taste of fresh peas for a Southern recipe in the summer – except fresh peas prepared in the Instant Pot! Let me warn you – once you try cooking in the Instant Pot you won't want to go back to your old cooking methods. See recipe below and try it out for yourself to see how easy and delicious it is!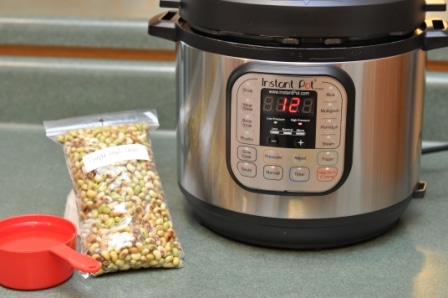 Print Recipe
Fresh Purple Hull Peas Prepared in the Instant Pot
Ingredients
1 lb. fresh shelled purple hull peas
1 tsp. salt
1 cup of water
Instructions
1
Rinse fresh purple hull peas and pour into your Instant Pot.
2
Cover with one cup water and add about a teaspoon of salt.
3
Set to manual for 12 minutes.
4
After cooking is complete, allow pressure to release naturally for about 10 minutes.
5
Release any remaining pressure.
6
Turn Instant Pot off, unplug and carefully remove top.
Notes
Be sure sealing ring is in place before placing top on Instant Pot, then lock top in place. Be sure pressure valve is in sealing position. You can add more salt after cooking if needed. Also, if desired, you can add other spices such as black pepper or garlic before cooking.
We are a participant in the Amazon Services LLC Associates Program, an affiliate advertising program designed to provide a means for us to earn fees by linking to Amazon.com and affiliated sites.