How to Cook Boiled Fresh Corn on the Cob
Sometimes a recipe like boiled fresh corn on the cob is so delicious it is amazing how easy it is to make! This time of year the grocery store or farmer's market has fresh corn on the cob for a very low price. One of the easiest ways to take advantage of this seasonal delight is to boil it on the stove while the rest of your meal is cooking and serve it hot with butter and salt. Don't you just love the simple things in life? Try boiling some fresh corn on the cob today!
How to Prepare Boiled Fresh Corn on the Cob
You can choose from many varieties of fresh corn. There are yellow, white, mixed, Silver Queen and the list goes on. Choose corn with fresh looking outer leaves that are not all dried out. Start at the top tip of the ear and peel about half of an inch wide strip of the husk down to the bottom. You will have to pull hard. Do this all the way around and discard the husk. Brush off the silk by rubbing your hand downward on the ear or by brushing lightly with a vegetable brush. Break the bottom tip off to leave just the ear of corn with kernels on it. Sometimes the bottom tip is stubborn when you try to break it off, and I just leave it. You can break it off further up the cob if you want it to all be uniform and pretty or even break it into smaller ears. Finally, I like to put on rubber disposable gloves and run the ears under running water, rubbing to remove the rest of the silk.
How to Cook Boiled Fresh Corn on the Cob
Fill a large pot, like a Dutch oven or large pot halfway with water. Place prepared corn in the water. They will float. Put it on the stove and turn the heat to high. When it starts to boil rapidly, turn the heat down to medium high. Let it cook in a rolling boil for 10-15 minutes, uncovered. If using a variety with small kernels, like Silver Queen, 10 minutes should do it. If cooking yellow corn with large kernels closer to 15 minutes will make it more tender. Be sure the cobs are turning in the water with the rolling boil so that they cook all the way around, or you can spin them a little with a spoon or spatula.
How to Serve Boiled Fresh Corn on the Cob
Remove cooked corn on the cob from the boiling water with tongs. I let them drain into the pot while holding with the tongs. Place in a casserole dish or directly on plates to serve. You can use corn cob holders if you like. Top with butter and salt. Enjoy!
Other Recipes to Try
This would go great with Pork Tenderloin, Deviled Eggs, and Coleslaw or Pasta Salad. Enjoy!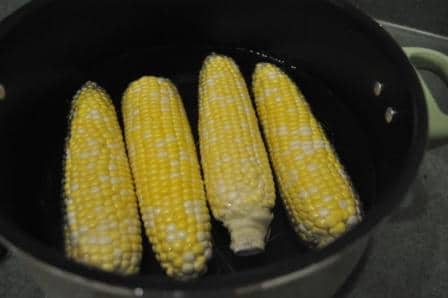 Print Recipe
Boiled Fresh Corn on the Cob
Ingredients
4 Ears of Corn - Shucked, Silks Removed, and Washed
Water
Butter or Margarine (Optional)
Salt
Instructions
1
Place 4 ears of corn that have been shucked, silks removed, and washed in a large pot.
2
Fill pot halfway with water. Corn will float.
3
Place uncovered on stove and turn on high heat until it boils rapidly.
4
Turn heat to medium high and let it continue to boil for 10 to 15 minutes.
5
Remove ears of corn from water with tongs, letting the water drain from the corn back into the pot.
6
Place ears of corn in serving dish or on individual plates. Insert corn holders into each end of cob if desired.
7
Top with butter and salt.