This post may contain affiliate links for which I earn a commission from qualifying purchases at no cost to you. See my affiliation policy.
Lima beans are tender and naturally mild flavored and make an easy lima bean side dish that goes well with so many main dishes. They can also be tossed in salads, protein bowls, or in soups or casseroles. They are extremely easy to cook using a variety of methods from stovetop, instant pot, pressure cooker, slow cooker or microwave.
Looking for other delicious side dishes? Visit our popular recipe pages for Black Eyed Peas in the Instant Pot. See How to Season Canned Black Beans. Looking for recipes made with fresh veggies? See how easy it is to cook Fresh Purple Hull Peas in the Instant Pot. Or add some leafy greens to the beans recipe rotation with Collard Greens or Savoy Cabbage.
The variety of ways to cook a lima beans recipe makes it easy to fit it in with whatever else you are cooking and to pick the method that you love to cook the best! If the stovetop is full with cooking main dish or other sides, cook them in the instant pot. If the instant pot is your main dish, use the stovetop or microwave to prepare. Whatever cooking method you use, it is easy to add flavor variations for a classic Southern lima beans recipe dish or a spicy festive flavor.
Be sure to check out my link for the Joseph Joseph Scoop Colander. It works wonders when scooping beans out of the pot to serve in a large dish!
What are Lima Beans?
Lima beans are legumes (plants that produce a pod with seeds inside) in the category of bean plants with beans, peas, chickpeas, lentils and peanuts. Their technical name is phaseolus lunatus. Fresh lima beans are harvested in the fall but are available year round as dried, frozen or canned beans. They are also called baby lima beans, sieva bean, double bean, Madagascar bean or wax bean.
They are named for Lima, the capital of Peru but they have an interesting history that ranges from being a status symbol in ceremonies to being a critical part of the three sisters (corn, beans, and squash) that were major staples of Native American agriculture.
You can ready about Lima Beans and their long and distinguished history in an article from the USDA National Agricultural Library. It will give you some table talk when you serve them at dinner or maybe a trivia game! And it that's not enough to talk about you can dive into the lima beans vs butter beans debate.
Are Lima Beans and Butter Beans the Same Thing?
Ask the technical experts and they will tell you that lima beans and butter beans are the same thing with different names. Ask the classic southern traditional cook in the United States how these beans cook and they will usually tell you that there is a huge difference. Personally from my experience lima beans are green: a very unique color green at that.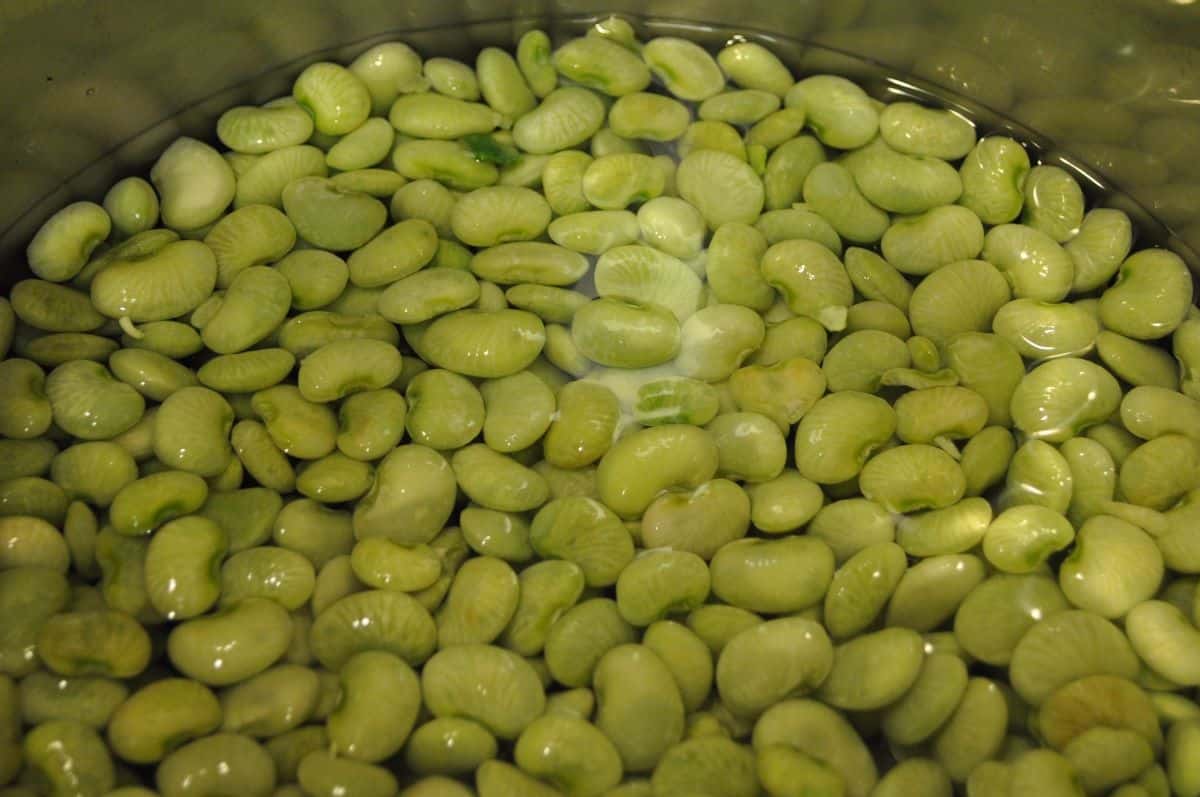 Butter beans are tan or brown- never green. Lima beans are generally fresh, frozen or canned though you can find some dried beans labeled limas. There are baby limas and large lima beans. Butter beans can be fresh, frozen, canned or dried but they are never green. Instead they have a tan or brown color.
Beyond their appearance they cook differently, tastes differently and have a different texture. So tell me again how they are the same thing? I can't get there from here. The right answer is all of the above. If you love them and call them limas or butter beans then we will all call them delicious!
What are the Health Benefits of Lima Beans?
You might be wondering what are lima beans good for. It turns out this humble legume provides a huge health boost. Web MD tells us all about the Health Benefits of Lima Beans. They are packed with protein, dietary fiber and other nutrients that qualify this food for superfood status! They are a great source for iron since one cup contains about 25% of your daily recommended amount needed. Those are reasons to love lima beans!
Excellent Source or Iron – One Cup contains about 25% of the recommended daily amount
Rich in Soluble Fiber – Helps your body absorb carbs slowly and regulates blood sugar levels.
Aid in Healthy Weight Control – They make you feel full longer and that can help with weight loss.
Low in Fat
No Cholesterol
Nutrition – Good source of Manganese, Copper, Folate, and Vitamin B1
How to Cook Lima Beans by Different Cooking Methods
Stovetop
Add fresh or frozen lima beans to a pot with 4 to 6 cups water to generously cover the beans. Add 1 tablespoon of oil and seasoning then cook on high on the stovetop until it starts to boil. Continue cooking uncovered over medium heat for about 40 minutes to 1 hour until the beans are tender. Be sure to stir occasionally and add more water if needed.
Canned lima beans can be heated on the stovetop in a small boiler for a few minutes until hot. To add additional flavor to canned beans, stir in garlic powder, onion powder and black pepper and then heat until hot.
Dried lima beans can be presoaked the night before, drained and cooked in a pot of boiling water with seasonings for about 40 minutes to 1 hour until the beans are soft. Add 15 minutes if you don't pre-soak them.
Instant Pot
Add fresh, frozen, or presoaked dried beans to the instant pot, cover with water and seasoning. Select time and cook on manual for 25 minutes. Let pressure drop naturally, remove lid and serve. Tip for cooking beans in the instant pot: always add a teaspoon of olive oil or similar oil to prevent frothing where it bubbles up and seeps out the top seal. Never overfill the instant pot when cooking.
Pressure Cooker
Add fresh, frozen, or presoaked lima beans to the pressure cooker. Cover with water and season. Add one teaspoon oil to prevent frothing and foaming. Bring to pressure and cook about 25 minutes or until soft depending on your preference.
Slow Cooker
Combine lima beans, water and seasoning in slow cooker. Cover and cook on high for 2 to 3 hours or low from 2 to 4 hours until beans are tender.
Microwave
Pour a can of undrained lima beans into a small casserole dish or bowl. Cover with paper towel and heat in the microwave for about 2 to 3 minutes or until hot.
If you are cooking fresh or frozen lima beans in the microwave, place them in a medium or large bowl, cover with water and cook on full power until beans are soft and tender. This will take about 10 to 12 minutes and time can vary according to amount cooked and power of microwave. Tip for microwaving beans: use a container that is much larger than the amount being heated or cooked to prevent spillover.
How to Season Lima Beans
For a basic recipes to season lima beans without meat you only need to add water and a tablespoon of olive oil. They have a natural delicate flavor that complements your main dish or is a great addition to a protein bowl or soup.
Cooking without meat makes it a great Vegetarian side dish and heart healthy for diets such as the Mediterranean diet, DASH, and anti-inflammatory diets. Cooking it with only olive oil makes it perfect for a low-salt diet. This classic side dish is also low in calories and low fat.
If you want to season lima beans Southern style add ham, ham hock or bacon. Sauté bacon or add it uncooked to lima beans to season it as they cook in water or use chicken broth. Other spices to add include garlic, onion, red pepper flakes and black pepper for delicious comfort food!
FAQs
Do lima beans need to be soaked before cooking?
No. You can cook them without presoaking. It will take approximately 10 or 15 extra minutes to cook until tender and creamy.
How do you keep lima beans from giving you gas?
Soaking beans helps to eliminate gas by removing sugars that are present in the beans. Soaking pulls the sugar out into the water. You drain the water and rinse away much of the culprit that causes gas and intestinal discomfort.
How do I make my lima beans soft?
Sometime dried beans are old. Dried beans have a moisture content of around 16%. However, as they age, moisture evaporates, giving pectin time to age and harden the skin. These beans can often take much longer to soften while soaking and cooking. Be sure to add water as needed when cooking on the stovetop to keep them hydrated. Cooking in a pressure cooker or instant pot will cut down on the extra time needed to help soften them up and is perfect for cooking fresh or frozen beans.
Are lima beans heart healthy?
Yes. Since lima beans have 9 grams of fiber in a cup and they are high in soluble fiber they can an excellent addition to a heart healthy diet.
Ways to Serve Lima Beans
These delicate beans are a mild and tender side dish. I like to serve them with Pork Tenderloin. See How to Cook Pork Tenderloin in the Instant Pot for a flavorful and easy main dish. They can also be used in salads, soups, protein bowls and casseroles.
How to Store Lima Beans
Lima Beans can be refrigerated for up to 7 days or frozen for up to 3 months. Simply reheat on the stove or in the microwave.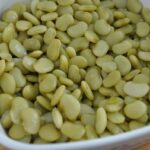 Print Recipe
How to Cook Lima Beans
Combine fresh, frozen or dried lima beans, water and seasoning in a large pot on the stovetop. Bring to a boil on high heat. Reduce heat to medium high and cook until tender. Add water as needed to keep beans covered with water while cooking. If you don't presoak dried beans, add 15 minutes to cooking time.
Ingredients
8

cups

water

(optional – use chicken broth or vegetable broth instead of water)

4

cups

fresh or frozen or dried lima beans

(Can pre-soak dried beans the night before; or use no soak method and just add 15 minutes to cooking time and cook until tender.)

1

tbls

olive oil
Instructions
Place water in large boiler.

Add 1 tablespoon olive oil and stir.

Bring water to boil on high heat.

Reduce heat and cook on medium high until beans are tender. This will take about 40 to 45 minutes. Be sure to add water as needed to keep them from boiling dry.

Serve and enjoy! See notes below for seasoning suggestions to use while cooking.
Notes
Nutritional values are an estimate and can vary depending upon ingredients used in recipe.
Pro tip:  Always add a tablespoon of oil.  I use olive oil for health benefits, but canola or vegetable oil will work well, too.  The oil helps to keep the beans from foaming up and boiling over.
Optional:  For added flavor use bacon,  ham or ham hock to season.  Add garlic powder, onion powder, black pepper,  or  red pepper flakes to taste.  
For dried lima beans sort (pick out the bad ones and throw them away),  soak in a bowl  of water covering the beans plus several inches of water on top, the night before.  Drain and rinse before cooking.  If not pre-soaking add an additional 10 to 15 minutes to the cooking time.
The instant pot pressure cooker does a great job to make lima beans soft.  They turn out tender in about 25 minutes of cooking time and then release with natural pressure (let it release without manually turning the sealing valve to let steam out quickly.)  It will take about 15 minutes for the pressure to release naturally.
Slow cookers are great for dried beans.  No soaking required.  Add beans, water, seasonings and oil and cook for 2 to 4 hours on low until lima beans are tender.
Nutrition
Serving:
1
cup
|
Calories:
217
kcal
|
Carbohydrates:
39
g
|
Protein:
15
g
|
Fat:
0.7
g
|
Saturated Fat:
0.2
g
|
Sodium:
4
mg
|
Potassium:
955
mg
|
Sugar:
5
g