Savoy cabbage is easy to prepare using an Instant Pot. It is inexpensive, healthy, and tastes delicious. Move over broccoli, there's a new dish in town!
How to Make Savoy Cabbage in the Instant Pot
Savoy cabbage looks like an elegant vegetable. It will give your side dish line up a makeover. Prepare it in the instant pot to retain all of its healthy vitamins and keep its fresh taste. Let me warn you – once you try cooking in the Instant Pot you won't want to go back to your old cooking method of boiling cabbage. See recipe below and try it out for yourself to see how easy and delicious it is!
Other Instant Pot recipes you might like to try: Deviled Eggs, Pork Tenderloin, Fresh Purple Hull Peas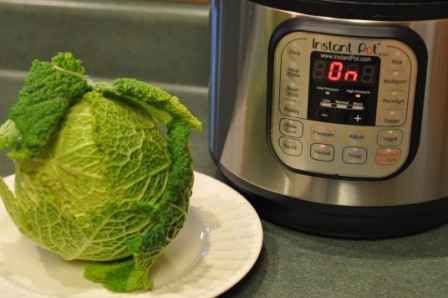 Print Recipe
Savoy Cabbage in the Instant Pot
Ingredients
Savoy Cabbage - 1 head
1 tsp. salt
1 cup water
1 tsp. olive oil
Instructions
1
Remove outer leaves from head of cabbage. Rinse cabbage thoroughly under cold running water in the sink.
2
Roughly chop the green leaves into 2 or 3 inch sized pieces and place in a bowl. Rinse under cold water and drain.
3
Pour cut cabbage directly into the silver bowl in your Instant Pot.
4
Cover with one cup water and add about a teaspoon of salt according to your taste and 1 teaspoon of olive oil.
5
Set to manual for 7 minutes. If you like firm cabbage you can set it to 5 minutes instead.
6
After cooking is complete, allow pressure to release naturally for about 10 minutes.
7
Release any remaining pressure with a slotted spoon. Keep your fingers clear of the steam.
8
Turn Instant Pot off, unplug and carefully remove top.
Notes
Plain cabbage can be used instead of savoy cabbage. Prepare using the same directions. If you like firm cabbage, release the pressure immediately after cooking. The longer it cooks and the longer you leave it to release the pressure naturally controls how much more tender the final product will be. You can add any spices that you like such as fresh black pepper, garlic or Cajun seasoning before you cook the cabbage. You can also add ham (I like the prepackaged diced ham) or cooked bacon to the instant pot with the cabbage before cooking. If you use ham or bacon you won't need to add salt.
We are a participant in the Amazon Services LLC Associates Program, an affiliate advertising program designed to provide a means for us to earn fees by linking to Amazon.com and affiliated sites.