Frozen Texas toast in air fryer is an easy recipe to enjoy delicious hot garlic bread in minutes. It is easy to cook to your desired crispiness or softness by adjusting cooking time. Enjoy homemade tasting thick pieces of buttery garlic bread straight from your air fryer. It might just be the highlight of your meal!
Why Use Frozen Garlic Bread?
Using your air fryer to cook the frozen bread makes it taste like fresh made without extra work.
It is easy to keep slices in the freezer and pull them out when you need that extra lift to complement your meal.
Stays fresh for months in the freezer until you are ready to use it.
It is easy to cook one or multiple slices depending on how much you need.
Buy it when it's on sale to save money!
Brand and Flavor Varieties
You can use name brand Frozen Texas toast or a store brand for the same amazing taste and results. Varieties also come in plain buttered toast, cheese toast or cheesy toast. You can add your own favorite cheese such as mozzarella and turn plain or garlic toast into cheesy bread toast.
If you are cooking frozen cheese toast or bread that you added cheese to be sure to not flip it over or else the cheese will stick to the pan!
Try slicing the cooked toast into strips that are perfect for dipping in marinara or other tomato sauces. You can cook them extra crispy and break or cut into small cubes for fresh made croutons to top your salad.
Instructions for Cooking Texas Toast in Air Fryer
Preheat air fryer to 350°. Place frozen slices in basket or on racks. You can cook as many pieces that you can fit without crowding them or overlapping if you want them crispy. Store brand varieties may be smaller than name brand so more will fit.
Use a spatula to flip pieces after 2 or 3 minutes and continue cooking until desired softness or crispy texture. You can flip again and add additional time if needed. Remember to use a pot holder or basket handle to remove the hot tray or basket. Serve immediately. After cooking, let air fryer cool before cleaning.
See our Kitchen Essentials page for Air Fryer Must Haves!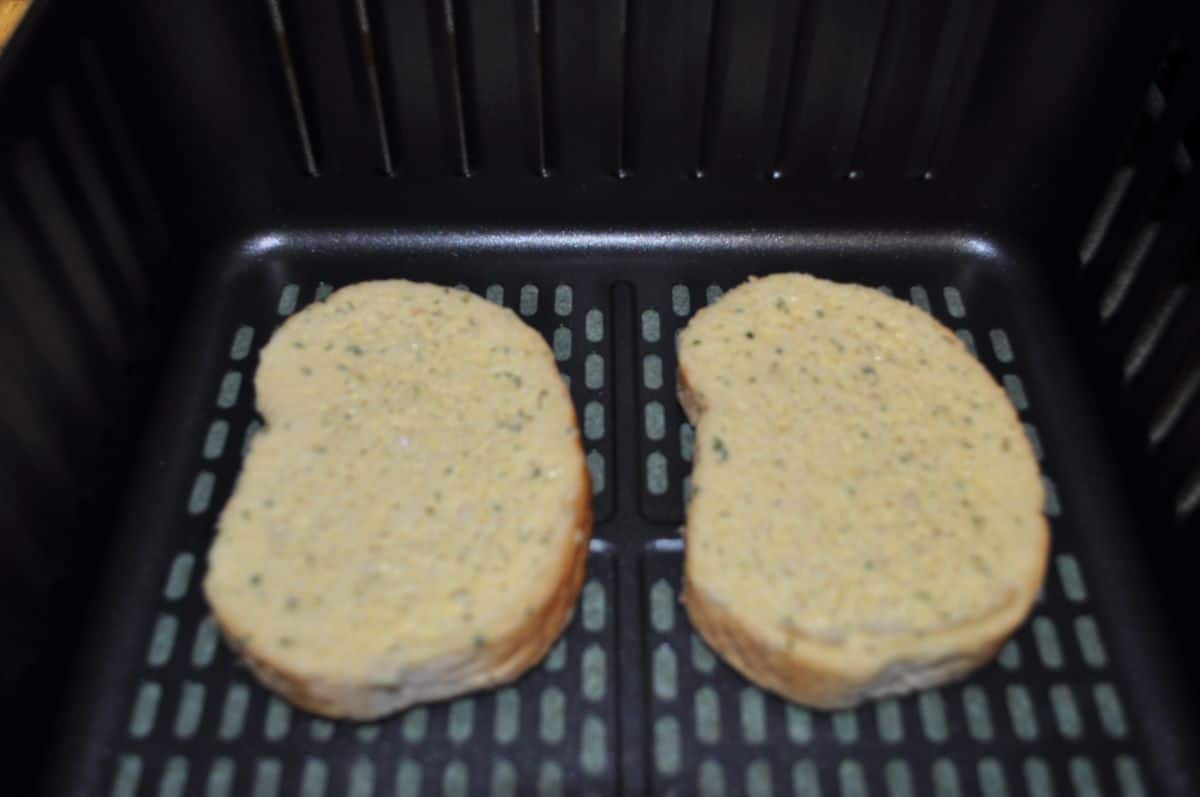 Serving Suggestions
Serve hot with your favorite saucy pasta dish or steak and potatoes. It also makes a great addition to any vegetable plate or with soup or stew.
Turn it into another dish altogether by spreading pizza sauce and your favorite toppings on the cooked Texas Toast or cheese toast. You can cook it for a few additional minutes in the air fryer to melt additional cheese on top of your homemade pizza.
Top crispy Texas Garlic or Plain toast with avocado, black beans, a little salsa, and cheddar cheese for a healthy Mexican avocado toast snack or main dish.
Need a quick breakfast or brunch idea you will love? Sprinkle cinnamon and sugar on plain Texas Toast then air fry for about 6 or 7 minutes to your perfect crispy texture. Now that's a quick and easy recipe to begin your day!
Pro Tips for Texas Toast in Air Fryer
Preheat the air fryer for a quicker crispy bread.
No need to defrost – just toss it on the pan to cook straight from the freezer.
Don't use parchment or foil. It blocks the air flow for even crispy cooking.
Don't add oil to the pan. The buttery bread is perfect for not sticking.
Turn garlic bread to crisp it on both sides.
Cook for the minimum time and add additional minutes if you want it crispier.
If using 2 pans for multiple pieces, swap the pans half way through to allow even cooking.
If cooking cheese bread add a few additional minutes cooking time.
See our

Kitchen Essentials

page for air fryers and accessories This recipe works for all types of air fryers.
How to Store Cooked Texas Toast
If you have any leftovers let them cool and store in the refrigerator in a plastic bag or small container. Reheat in the air fryer for a few minutes or in the microwave wrapped loosely in a paper towel on a plate for about a minute.
FAQs
What happens if you put bread in air fryer?
You can put fresh bread in the air fryer and have perfect toast in minutes. Set Air Fryer to 400° and put bread in basket or on rack. Cook 2 minutes, turn bread, and cook 2 more minutes or until desired crispness.
Can you cook frozen foods in an air fryer?
Yes most foods go straight from the freezer to the air fryer without defrosting. Appetizers and breads generally cook in 7 or 8 minutes. Frozen chicken nuggets and tater tots take a little longer.
Can you put glass in an air fryer?
You can put oven-safe glass like Pyrex in the air fryer. However glass it is not the best choice for cooking in an air fryer due to temperature changes while cooking. Never put a cold glass dish in the hot air fryer as it can crack.
Can you put paper towels in an air fryer?
No, paper towels can catch on fire just as in a conventional oven.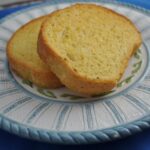 Print Recipe
Texas Toast in Air Fryer
Cook frozen Texas Toast in your air fryer to make mouth-watering garlic bread in minutes.
Ingredients
2

pieces

Frozen Texas Toast

½

cup

Shredded Cheese

(Optional for Cheese Bread)
Instructions
Preheat air fryer to 350°

Place 2 slices of frozen Texas toast in air fryer basket or on air fryer tray.

Turn slices over with a spatula and cook an additional 3 minutes. Add optional cheese if desired.

Remove from pan and serve immediately.
Notes
Nutrition values are approximate and depend upon product used.
This recipe works in any air fryer.  Adjust cooking times to get a softer or crispier final product by decreasing or increasing time cooked on each side.  For softer bread cook 3 minutes per side.  For crispier bread cook 4 or 5 minutes per side until it is the crispness you desire.
Nutrition
Serving:
1
piece
|
Calories:
150
kcal