This recipe for make ahead sausage pinwheels has only 3 ingredients: ground sausage, crescent rolls and cheese. It is easy to bake and refrigerate or freeze for a quick breakfast, brunch, or appetizer that is easy to reheat in the oven or air fryer and serve in minutes!
How to Make This Recipe
Start by browning a pound of ground pork sausage in a skillet. I have used turkey sausage for a healthy alternative to pork and it turns out tasty. Other tasty breakfast recipes you might like to try is How to Make an Omelette. Drain and cool sausage.
Unroll crescent dough on a sheet of waxed paper and make a large rectangle. If you are making smaller pinwheels use half of the crescent dough for one rectangle and half for another. This allows you to make a smaller diameter roll.
Note: For presentation, if you don't want overly stuffed rolls, save half of the sausage and cheese for another recipe. Without a lot of filling the rolls will be shaped firmer like sliced cookies. Alternately you could use 2 cans of crescent rolls and put less filling on each sheet.
Spread cooked sausage and top with shredded cheddar cheese. Leave an inch or two border so that there is plenty of bread in the spiral. You can add cream cheese spread to the dough before layering the meat and cheese to add a bit of rich creamy flavor.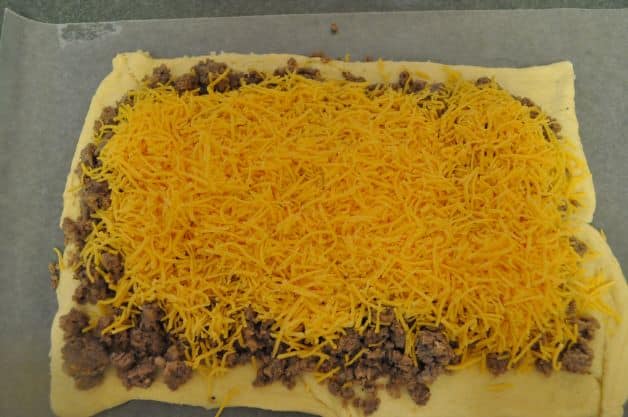 Roll dough jelly roll style and wrap in waxed paper. Place in freezer for about 15 minutes to make it easy to slice rounds.
Remove from freezer and slice rounds on a cutting board. Place on cookie sheet and bake until golden.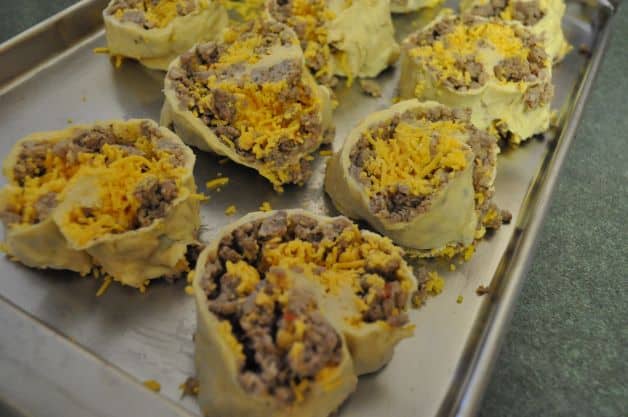 Large pinwheels take about 15 minutes at 375° and smaller spirals take about 13 minutes. Watch closely towards the end of the cooking time to get that perfect golden crescent roll. See full recipe below.
Variations
Meat to Use – Ground pork sausage, ground turkey sausage, precooked sausage crumbles, or chopped ham. Try using ground beef to make this a quick dinner idea that you can serve with soup or salad. Black eyed pea soup would be great with this as a dinner duo!
Spreads before filling – Use plain cream cheese or cream cheese with chives or vegetables. Leftover cheese dip works well too – especially queso cheese dip.
Crescent rolls – Use Pillsbury or store brand rolls or canned dough sheets. Biscuit dough does not work well with this recipe.
Cheese – Try Mexican cheese and serve with a side of salsa or parmesan cheese and serve with a side of ranch dressing for dipping.
Serving Ideas
Breakfast – Make fresh or reheat for a quick bite before heading out the door.
Brunch – Serve on a platter with a gravy bowl in the center.
Appetizer – Make small pinwheels for small bites.
Snack – Ready when you need a quick boost of energy.
Dinner – Use as a main dish, side dish or bread serving.
Potluck – Pack in a casserole dish with a heated pad to serve warm.
Tailgate – Easy to serve: no utensils needed.
Comfort Meal – Breakfast and snack dishes are often forgotten. This is easy to reheat when needed.
Can I Make Pinwheels Ahead?
Yes. Bake and refrigerate or freeze. Also precooking the meat is a great time saver to prepare the recipe in minutes.
Can I Bake in the Air Fryer?
Yes. Preheat air fryer to 340° and bake for 8 minutes. Adjust time as needed to achieve golden results.
How Do I Reheat Pinwheels?
Bake in the oven at 375° for 5 minutes until hot. Microwave for 15 to 20 seconds until hot. Air Fry at 340° for 2 minutes until hot. Ovens vary so adjust to your perfect time and method.
Check out Some of Our Reader's Favorite Recipes
The Best Chocolate Chip Cookies
Print Recipe
Make Ahead Sausage Pinwheels
Use crescent rolls, sausage and cheese to make this 3 ingredient recipe that is a mouthwatering breakfast, brunch or appetizer delight.
Ingredients
1

lb

ground sausage

4

cups

shredded cheese

(cheddar (vary amount and type according to your preference))

1

can

crescent rolls

1

pkg

softened cream cheese

(optional)
Instructions
Brown ground sausage and drain. Set aside to cool.

Unroll crescent roll dough on a sheet of wax paper. Press seams together. You can make one large roll or separate into two rectangle sections for ease of rolling.

Optional: spread softened cream cheese on dough before adding filling.

Spread cooked sausage on crescent roll dough. Leave about 2 inches border with no sausage.

Sprinkle shredded cheese generously on top of sausage.

Lift crescent dough and roll jelly pan style. You can roll once then fold in half and press down if using one large roll. If using smaller rectangle section start at wide end and roll into a tube for each section.

Wrap roll in wax paper and put in freezer for about 15 minutes. This helps to make the crescent pinwheel firmer and easier to cut into rounds.

Remove crescent dough roll from freezer and unwrap from wax paper. Place roll on cutting board and slice into rounds. It will make about 8 large cheesy sausage pinwheels.

If you want smaller sizes for brunch or appetizers make rolls a smaller diameter.

Bake rollups on cookie sheet at 375° for about 15 minutes. Smaller rounds may only take 13 minutes. Keep an eye on them at the end of the cooking time to adjust by a minute or two to get the crescent rolls to cook to a perfect crisp golden brown.

Remove from oven. Use spatula to transfer pinwheels to a serving plate or tray. Serve hot.
Notes
Nutritional analysis is an estimate and will vary according to ingredients used.
Make ahead tips – Cook sausage and keep a package in the freezer to be ready to use or cook sausage ahead and refrigerate up to 3 days before making this recipe.  Alternately use pre-cooked frozen sausage crumbles.
Refrigerate cooked pinwheels after they cool or freeze them in a tightly sealed storage bag.
Size of rollup can be adjusted depending on how much filling you put in each section of dough.  Use smaller rectangles for smaller bites.
Nutrition
Serving:
1
crescent rollup
|
Calories:
400
kcal