This is the best chocolate chip cookies recipe ever. Nothing beats the aroma and taste of fresh baked cookies from your kitchen.
We have made so many memories at our house by baking these cookies together.
After school treats, rainy weekend baking and cookie swaps with friends fill our memories with happiness.
Such a simple task with profound results. Share this delicious treat with your family and friends today!
Ingredients
2 ¼ cups flour (all-purpose)
1 tsp baking soda
½ tsp salt
2 sticks butter, softened (1 cup)
¾ cup sugar (granulated)
¾ cup brown sugar
1 whole egg
1 tsp vanilla
12 oz chocolate chips (semi-sweet)
1 cup pecans, chopped (optional)
Easy Chocolate Chip Cookies Recipe
This recipe will make 24 cookies. Use Nestle or Toll House chocolate chips in this simple to mix recipe. The texture is crisp and chewy with melted chocolate chips in every bite.
Nuts like pecans can be added to the batter. You'll want to pin this easy recipe for the ultimate chocolate chip cookies!
The full recipe is below but to give you an idea of how easy these are to make: You will need a small and large mixing bowl.
Dry ingredients will be combined in the small bowl and wet ingredients will be mixed in the large bowl. (Be sure to set your butter out for a little while beforehand to soften.)
Ingredients are mixed together. Chocolate chips and pecans (nuts are optional if you want to include them) are added at the end.
The cookie dough can be baked immediately, refrigerated for making cookies later, or store frozen dough for several months to slice and bake later.
How to Make Chocolate Chip Cookies
Mixing the Dough
Begin by measuring the dry ingredients in the small bowl and set it aside.
Next, mix the butter and sugars with a mixer or by hand until it is fluffy in the large mixing bowl. This should only take a minute.
Stir in egg and vanilla.
Last add the chocolate chips and nuts.
Bake, Refrigerate, or Freeze
At this point you can bake the dough immediately, store it in the refrigerator for make ahead cookies or freeze it for later use.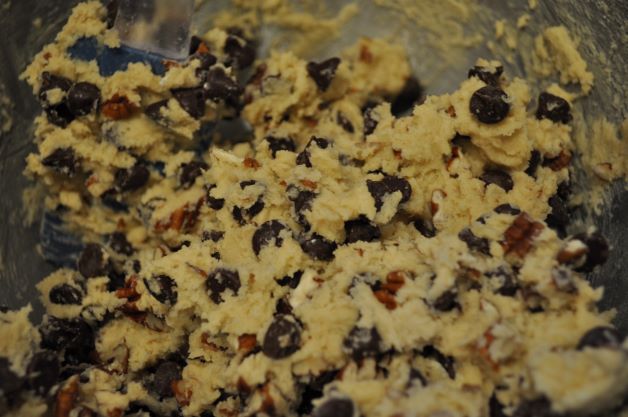 Baking the Dough
Use a large spoon or cookie scoop to drop cookie dough about 2 inches apart on a cookie sheet.
Bake for 8 – 10 minutes in a 375° oven.
Remove from oven and cool for 2 minutes then transfer to a wire rack to cool for a few minutes.
Serving Cookies
Enjoy a warm, rich, melty chocolate chip cookie. Crisp and chewy.
Sharing is optional. Add a glass of cold milk to make the memory complete!
Ingredient Substitutions and Variations
Butter or Margarine are both fine to use and will result in a rich buttery flavor and golden brown butter appearance.
Semi-sweet chocolate chips (Nestle or Toll House) or shaved chunks of chocolate work well.
Pecans or walnuts are both delicious nuts to add in this recipe.
Butterscotch chips in place of chocolate chips for variety and cookies will have a rich brown butter taste.
Gluten Free Flour and Gluten Free Chocolate Chips can be used to make this a gluten free recipe.
Storage Suggestions
Store chocolate chip cookies in an airtight container or storage bag at room temperature for up to a week.
Baked cookies can also be stored in the freezer for up to 3 month. Set out frozen cookies to thaw at room temperature for a couple of hours and enjoy!
Curious how long food can be stored in the refrigerator. Check out our article How Long Is Food Good For in the Fridge.
How to Freeze Chocolate Chip Cookie Dough
Divide uncooked dough into 3 rolls. Place each roll in a large freezer storage bag, remove air and seal. Store in freezer for up to 3 months.
How to Thaw Frozen Cookie Dough
To thaw frozen cookie dough, place it in the refrigerator the night before you plan to use it.
Alternatively, place sealed bag of frozen cookie dough in a pan of cold water for about 30 minutes.
You can drain and run more cold water a couple of times to speed the process.
Keep the top of the bag where you sealed it out of the water so no water leaks in during thawing process.
Pro Tips for Making the Best Chewy Chocolate Chip Cookies
How to Soften Butter
It is important to soften butter before mixing ingredients. Set butter (still wrapped) out a plate for a couple of hours ahead of baking to soften.
In a rush, microwave on 50% power 10 seconds. Repeat until soft.
Another method is to run hot water over a bowl or glass and dry it. Set it on top of butter on a plate to soften butter.
Best Spatula for Baking Cookies
Since the baked dough is light and fragile be sure to use a very thin spatula to lift cookies from cookie sheet.
Thicker spatulas tend to push the dough and cause it to be misshaped.
Cookie Sheet Tips
If your cookie sheet needs updating, try using parchment paper on the cookie sheet. Cookies slide off easily.
You can bake on parchment paper that has been placed on a cookie sheet.
Simply drop dough straight onto the parchment paper and bake as directed.
Oven Temperature
Be sure to use correct oven temperature and preheat before baking.
Incorrect temperature will result in runny or flat cookies, over or under baked cookies, or different textures of hardness or softness.
Where to Serve The Best Chocolate Chip Cookies Recipe Ever
Everyone loves these cookies. Share them with family and friends.
Use cute serving trays and sprinkle some extra chocolate chips for decoration.
Place some cookies in a small plastic bag and tie ribbon or yarn around for a sweet present.
Some ideas for serving are:
Snacks
Desserts
Birthday Parties
Shower or Tea
Thank you teacher gifts
Office Parties
Picnics, Potluck, Socials
BBQs
Cookie Swaps
FAQ's
Why do cookies spread and flatten?
There are 4 main reasons for thin and flat cookie dough. 1. Using old baking soda. Be sure you use fresh baking soda. 2. Over mixing ingredients. Mix just until ingredients are combined and no flour is visible. Prolonged mixing will make the cookie dough batter spread. 3. Using warm ingredients. If you use warm ingredients you can refrigerate the cookie dough before baking. 4. Oven not hot enough. Be sure to use correct cooking temperature.
Can you freeze the cookie dough?
Yes you can freeze cookie dough. Prepare dough and put in a sealed storage bag with air removed. Place sealed bag in the freezer for up to 3 months. Thaw and bake as directed. I like to put the dough in the bottom of a large storage bag and shape it into a tube shape. It is easy to slice off rounds to bake.
Can the cookie dough be refrigerated for make ahead?
Yes cookie dough can be stored in the refrigerator to bake cookies later. Simply prepare uncooked dough and place it in a sealed storage bag or storage container in the refrigerator for up to 3 days. Bake as directed.
More of Our Favorite Cookie Recipes
Our Almond Butter Cookies are a great change from traditional peanut butter cookies by using almond butter instead of peanut butter. They are so light, delicate and full of buttery flavor that melts in your mouth!
Check out our Pecan Puffs recipe. This is the most amazing melt-in-your-mouth cookie that you will ever eat! They have a delicate inside full of pecans and buttery cookie and are rolled in powdered sugar for a rich, decadent treat!
Make Cookie Baking Memories With Your Family
Time is short and our little ones grow up fast. Fill them with childhood memories of baking cookies together in your kitchen!
Share Feedback: Did You Make The Best Chocolate Chip Cookies Recipe Ever?
Be sure to save this recipe to your favorite pinterest board so you can keep coming back to a favorite recipe later. Be sure to click the star rating in the recipe card below.
If you enjoyed it, I would be honored if you would share to pinterest.
I would love to hear your comments or answer any question you have about making this recipe. Please share your comments below.
Print Recipe
The Best Chocolate Chip Cookies Recipe Ever (Crisp and Chewy)
This is the best chocolate chip cookies recipe ever! Use Nestle or Toll House chocolate chips in this simple to mix recipe. The texture is crisp and chewy with melted chocolate chips in every bite. Nuts like pecans can be added to the batter. You'll want to keep this easy recipe for the ultimate chocolate chip cookies!
Ingredients
2 ¼

cups

flour

(all-purpose)

1

tsp

baking soda

½

tsp

salt

2

sticks

butter, softened

(1 cup)

¾

cup

sugar

(granulated)

¾

cup

brown sugar

1

whole

egg

1

tsp

vanilla

12

oz

chocolate chips

(semi-sweet)

1

cup

pecans, chopped

(optional)
Instructions
Mix flour, baking soda and salt in a small bowl. Set aside.

In a large mixing bowl, beat butter, granulated sugar and brown sugar on medium for 1 minute until fluffy. (Optionally – mix by had until fluffy.) Scrape bowl as you are mixing.

Add vanilla and egg to the butter mixture. Beat until smooth.

Stir in flour mixture from small bowl. Mix until just blended. The batter will be very stiff.

Stir in chocolate chips and optional pecans.

On ungreased cookie sheet drop dough by rounded tablespoons 2 inches apart.

Bake 8 to 10 minutes until light brown. The centers will be soft.

Cool on cookie sheet for 2 minutes. (Don't skip this step – it gives the cookies time to set.)

Remove from cookie sheet to a wire rack to cool. Takes about 30 minutes to cool completely.

Repeat putting dough on cookie sheets and baking until all dough is used. Let the cookie sheet cool between batches before putting dough on it. Alternately, use additional cookie sheets to prepare another batch as one is cooking.
Notes
Nutritional information is an estimate and will vary with ingredients used and serving size.
Great to keep in the freezer for a quick homemade snack!
Nutrition
Serving:
1
cookie
|
Calories:
183
kcal
|
Carbohydrates:
26
g
|
Protein:
2
g
|
Fat:
8
g
|
Saturated Fat:
5
g
|
Cholesterol:
27
mg
|
Sodium:
153
mg
|
Potassium:
31
mg
|
Fiber:
1
g
|
Sugar:
18
g
|
Vitamin A:
1971
IU
|
Vitamin C:
1
mg
|
Calcium:
24
mg
|
Iron:
1
mg