Sweet Potatoes (or Yams) in the Instant Pot
Learn how to cook sweet potatoes in the instant pot so they are restaurant quality. Using the instant pot to cook sweet potatoes has been a game changer for me! They always turn out soft and delicious. Such an easy and healthy side dish. Wash the sweet potatoes and put them in the instant pot on a rack with about an inch of water in the bottom. Set for manual 25 minutes and get ready for pure goodness. Enjoy!
This post may contain affiliate links for which I earn a commission from qualifying purchases at no cost to you. See my affiliation policy.
What to Serve with Sweet Potatoes or Yams
Pork Tenderloin is a delicious main meat dish that goes well with sweet potatoes. Chicken Tetrazzini is a mild flavored casserole that will complement this side dish. Other sides that would be delicious and healthy are collard greens, or a different green vegetable such as savoy cabbage.
Need a dish to sink your teeth into? Try our recipe for easy boiled corn on the cob. A cold salad that is easy to make and refrigerate while the main dishes are cooking is our easy coleslaw.
Pro Tips for Choosing Sweet Potatoes
For the perfect sweet potato, choose one that has smooth looking skin and doesn't look old. Be sure there are no bad blemishes on it.
Always scrub any potato or yam with a vegetable brush to remove dirt and wash them under cold running water. Pat dry before placing in the instant pot.
Choose a medium size potato to cook at 25 minutes. Those very small or huge heavy potatoes cook at different rates. For a small potato (about 2 inches wide) it will only take 15 minutes and a very large heavy one (about 4 inches wide) will take 45 minutes to 1 hour. If you do have large ones, letting the pressure release naturally will result in the best softest and creamy insides!
FAQs: How to Cook Sweet Potatoes in the Instant Pot
Are sweet potatoes healthy?
Yes, they provide many healthy vitamins and fiber. They are especially high in Vitamin A and beta carotene.
Can you eat sweet potato skin?
Yes, the skin provides additional fiber and nutrition.
How to tell if a sweet potato has gone bad and should not be cooked?
If the sweet potato is soft or mashes easily, smells bad, has sprouts or is oozing do not cook it. Throw it away.
Are sweet potatoes and yams the same thing?
No, they are different varieties, look different and have different vitamin content. See the article "Yams vs. Sweet Potatoes" by Eating Well.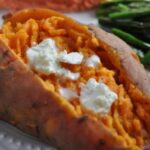 Print Recipe
How to Cook Sweet Potatoes in Instant Pot
Cook whole sweet potatoes or yams easily in the instant pot. They turn out perfect every time – just like the restaurants serve but you can make it at home quickly for a delicious side dish.
Ingredients
4

whole

sweet potatoes or yams

1

tbsp

butter

(optional)

1

tbsp

cinnamon

(optional)
Instructions
Wash sweet potatoes or yams by rubbing under cool running water in the sink. I like to scrub them lightly with a vegetable brush.

Place rack in bottom of the instant pot. I use the one that came with mine that has handles to lift the rack out with.

Cover bottom of pan with water until just over the rack – about an inch of water.

Place sweet potatoes in pot on top of rack.

Put instant pot cover (with sealing ring in place) on top and twist to lock.

Place vent on top in sealed position.

Set instant pot to manual for 25 minutes.

After the timer beeps that the cooking is finished you can let the pressure naturally release or do a quick release. I have had good results with both methods.

Remove the top and lift sweet potatoes out with tongs or a slotted spoon. They should be extremely soft and yummy.

Serve with butter and/or cinnamon if you like. I think they are delicious plain since they are so sweet and soft. Enjoy!
Notes
Nutritional values are an estimate and will vary according to ingredients used.
Nutrition
Serving:
1
potato
|
Calories:
260
kcal
|
Carbohydrates:
60
g
|
Protein:
6
g
|
Sodium:
182
mg
|
Fiber:
4
g
|
Sugar:
6
g