Easy Squash Casserole Recipe
Easy squash casserole recipe that is loaded with flavor in a creamy cheese sauce and topped with crunchy Ritz crackers – a super side dish that can be served with so many main dishes! Try it with Pork Tenderloin. See our recipe for How to Cook Pork Tenderloin in the Instant Pot for an easy pork main dish. Or pair it with Baked Salmon that is prepared in the oven or with Salmon Patties that you cook on the stovetop. Any way you serve it everyone will want more of this delicious squash casserole!
Squash Casserole Ingredients
Yellow Squash – Wash and slice into thin round circles.
Onion – White or Vidalia onion for a mild flavor. Chop into small pieces.
Cheddar Cheese – Shredded. Sharp or mild for your preference of taste.
Butter – 1/4 stick. Just a couple of pats.
Egg – 1 medium or large. Whisk it into the ingredients for a binding agent.
Milk – Whole, Fat Free, or Skim. Adds creamy moisture to the casserole.
Cream of Chicken Soup – Campbell's Soup mixes with cheese and other ingredients for a creamy sauce. See variations below for substitution ideas.
Ritz Crackers – For a slightly crunchy topping that adds a rich buttery flavor from the crackers. See variations below for a healthier squash casserole using an alternate topping.
Easy Squash Casserole Recipe Directions
The complete recipe directions are below but to summarize how easy it is to make this dish do the following steps. Wash squash and slice into rounds.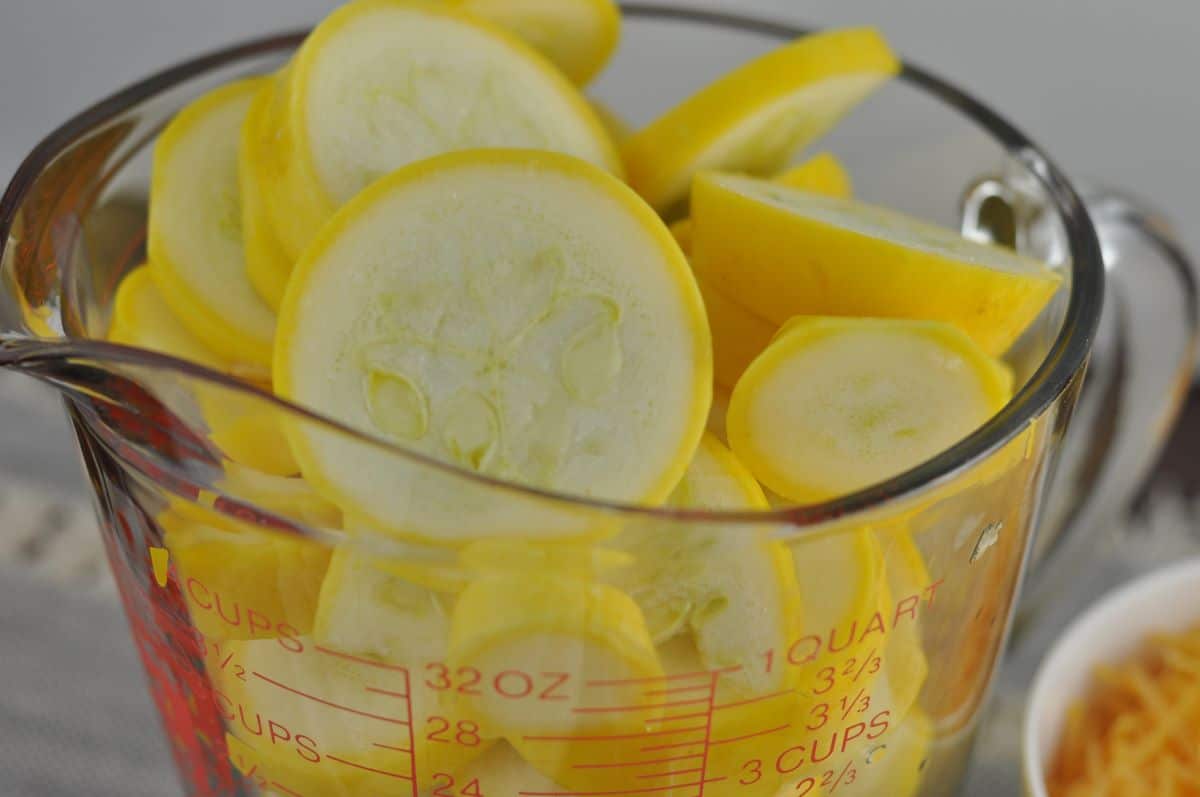 Chop and dice onions. Boil squash and onions in salted water until tender and drain thoroughly so your casserole is not watery.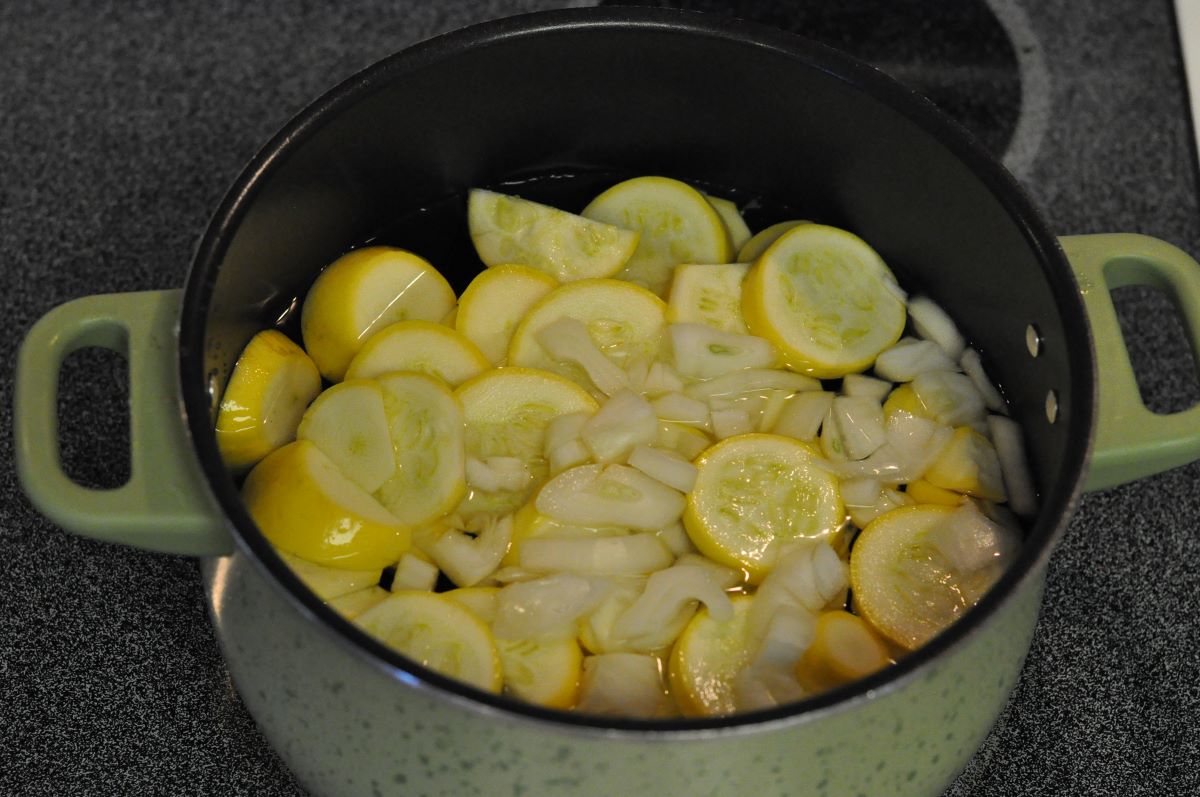 Add other ingredients (except Ritz crackers) and mix in a large bowl until combined well.
Pour mixture into a greased casserole dish and top with crushed Ritz crackers. Bake in a 350°F oven for about 20 minutes or until hot and bubbly with the crackers slightly browned and crispy.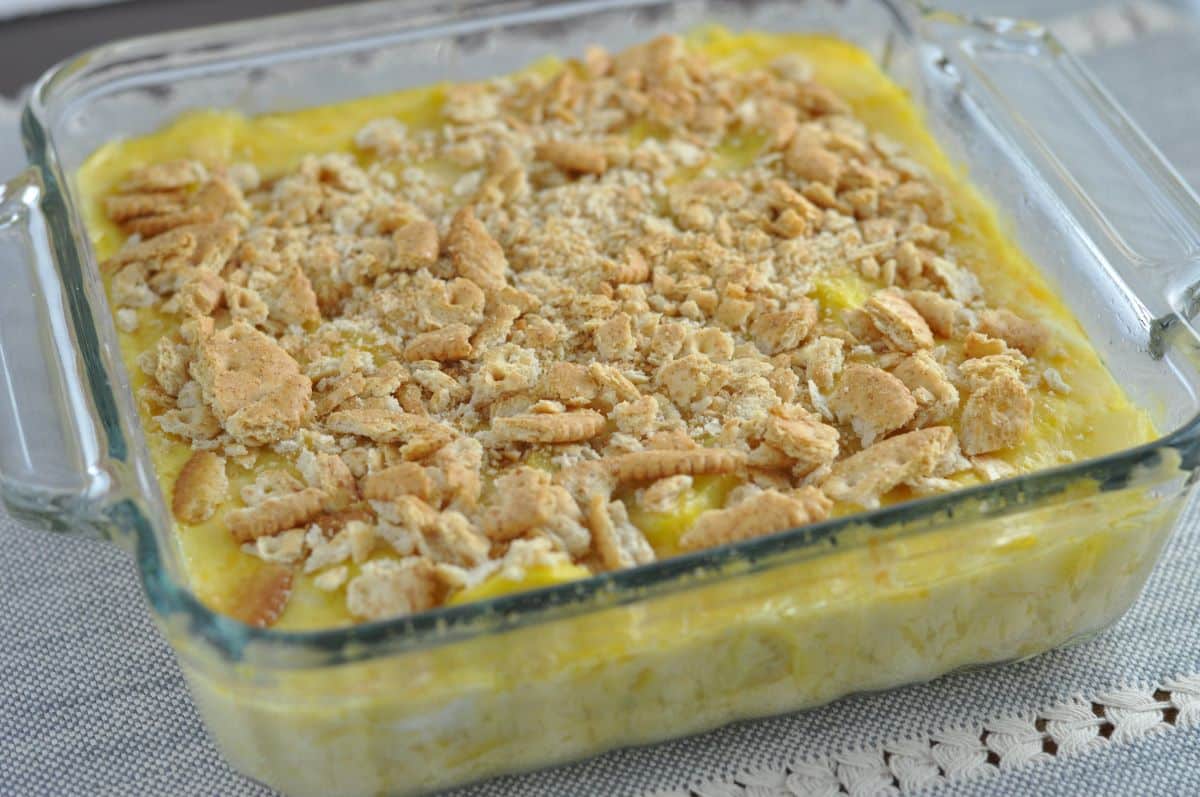 How to Store Squash Casserole
How to Store Squash Casserole in the Refrigerator
If you have any leftovers let them cool and put them in a refrigerator dish or plastic storage bag. It will keep in the refrigerator for about 5 days. Reheat in the microwave for a minute or two (depending upon amount your a reheating) until hot. The crackers will not be crisp, but the dish still tastes very flavorful and rich. You can also reheat in the oven in an oven-safe dish at 350°F until hot. Or if you use an air fryer, reheat on high in an oven safe dish until hot and bubbly. If anything, the flavors have blended more and taste even better after a few days in the refrigerator. If you must have crunch, just crush a few extra crackers on top and serve!
How to Store Squash Casserole in the Freezer
People always ask if you can freeze squash casserole. Yes, you can freeze the casserole cooked or uncooked. If you do not cook it, wait until you thaw it and add the Ritz crackers just before baking. To thaw, put it in the refrigerator overnight before you wish to cook it. If you freeze it after it has cooked and cooled, store it in freezer safe dishes or Ziplocs. Thaw in the refrigerator overnight or run sealed dish or bag under cool water to help thaw it quicker. Microwave or heat in oven at 350°F until hot and bubbly.
What to Serve with This Easy Squash Casserole Recipe
Side Dishes
Need another side to pair up with this squash side dish? Try fresh asparagus. You can cook it in the air fryer or oven. Air Fried Asparagus is delicious, quick and easy or if you prefer to use the oven try Baked Asparagus.
Main Dishes
What main dishes go well with squash casserole? Stand alone types of meat work best instead of another casserole. In a seafood mood? Fish is easy to prepare and healthy, too! I love fresh rainbow trout. And by fresh I mean straight from the seafood counter at the grocery store – unless someone brings me a fresh catch from their fishing bounty! Fresh trout is so easy to pan fry. Just drizzle a little olive oil in a skillet, add fish filets and sprinkle seasoning on it. Pan fry a few minutes on each side and it tastes wonderful! Try our Rainbow Trout recipe. Can't find trout? Then Grill Tilapia either on a George Foreman type grill or even in a skillet or in the oven. Fish is easy to cook and it doesn't take long no matter how you cook it!
Desserts
Looking for a fabulous dessert? Start with boxed cake mix and add a few things to it to make Key Lime Cake from Box Cake Mix. Take a look and see if you agree that it is mouth-watering! It is so easy to prepare and tastes so rich and full of creamy flavor.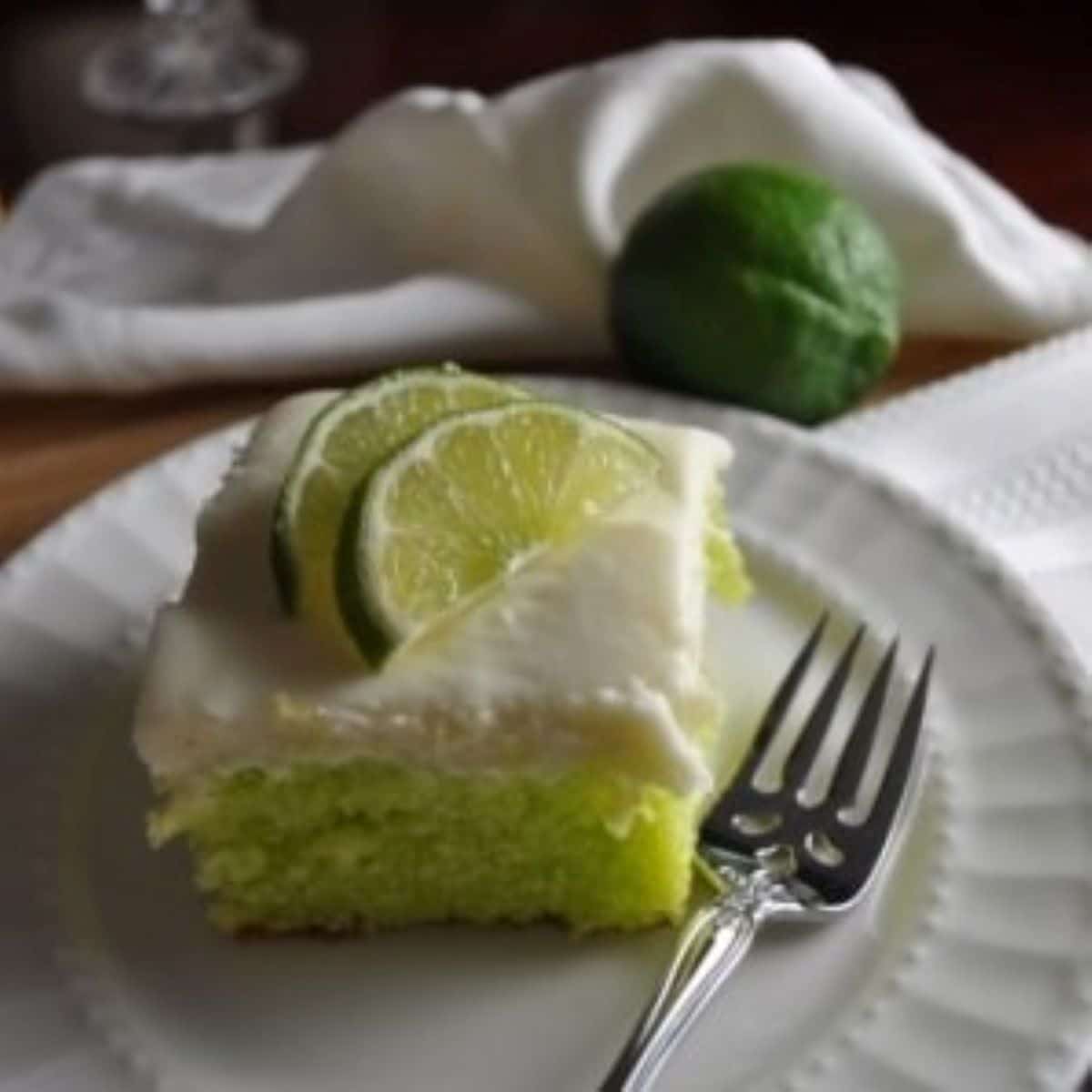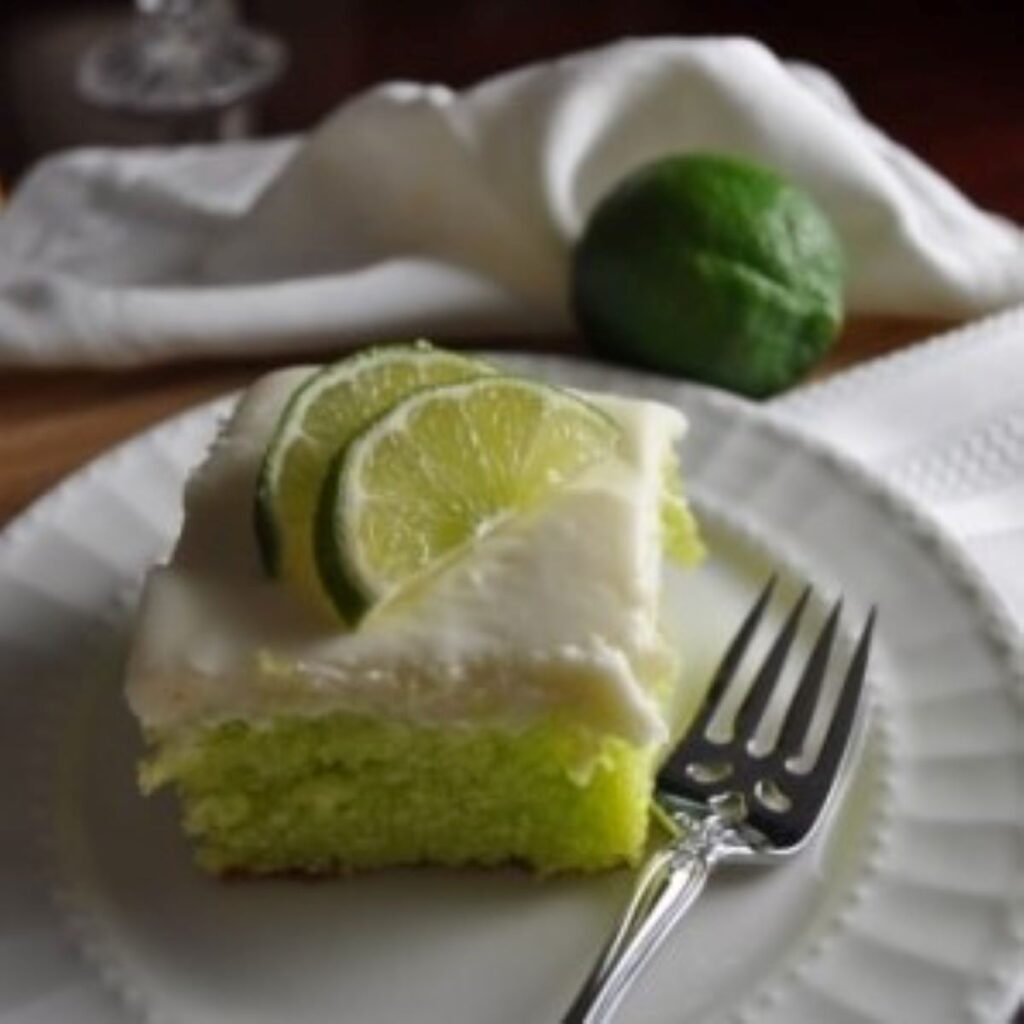 Substitutions and Recipe Variations
Can You Use Frozen Squash?
A lot of people ask if you can use frozen squash instead of fresh squash in this recipe. You can use frozen squash. Be sure to thaw thoroughly and blot with paper towels to absorb water before continuing with recipe. The taste will be slightly different, but delicious!
Cracker Barrel Squash Casserole Recipe
To make this recipe more like Cracker Barrel Squash Recipe omit cream of chicken soup. In its place, use 1/2 cup sour cream and 4 oz. of softened cream cheese. Prepare recipe as directed with just those substitutions. Another option to create Cracker Barrel Squash Casserole Recipe is to use 5 oz. sour cream and 2 tbls. mayonnaise instead of cream of chicken soup. Prepare as directed in recipe with just those substitutions. You will think you are in front of the Cracker Barrel fireplace playing checkers!
Paula Dean Squash Casserole Recipe
In Paula Dean fashion, sauté the squash and onion in butter instead of boiling it in water. Omit cream of chicken soup and use 1/2 cup sour cream and 1/2 cup parmesan cheese in addition to regular recipe ingredients for a cheesy squash casserole. It will taste rich and delicious for a Southern Casserole Classic!
Healthy Squash Casserole Recipe
To make this squash casserole a little bit healthier, substitute the Ritz cracker topping with sourdough bread that has been toasted and broken into small pieces. You can also use healthy ingredient substitutions like fat free sour cream, fat free soup, low sodium soup, fat free or low fat cheese, parmesan instead of cheddar cheese and olive oil instead of butter. Substituting ingredients is easy in a mixed casserole and the result is still a rich and flavorful dish!
FAQ's
How do you keep squash casserole from getting watery?
No one likes a watery casserole. To keep this from happening, cook squash before mixing casserole ingredients. If you boil squash, add salt to the water and then drain completely and blot dry with a paper towel before combining all casserole ingredients. The salt helps pull water out of the squash so it doesn't release water while cooking as a casserole.
Do you have to peel squash before cooking it?
You can, but it is not necessary. I prefer to leave the skin on and enjoy the vitamins and rich yellow color in the dishes I prepare.
Should you salt squash before cooking?

Yes. Salt the squash and let it set for 30 minutes. You can also boil in salted water. Salt helps release water trapped in the vegetable making a less watery final product.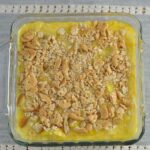 Print Recipe
Easy Squash Casserole Recipe
Yellow squash is combined with a few ingredients to create a delicious casserole topped with Ritz Crackers.
Ingredients
2

cups

sliced yellow squash

(about 1 pound)

1 ½

cup

grated cheddar cheese

¼

stick

butter

¼

cup

milk

20

crackers

Ritz Crackers

(small sleeve of crackers crushed)

1

medium

onion, chopped

1

can

cream of chicken soup

1

medium

egg
Instructions
Wash squash and slice into small rings about 1/4 inch thick.

Place squash and onion in a large boiler and cover with water. Salt if desired.

Boil squash and onions about 10 minutes or until tender.

Pour squash and onions into a colander to drain water and then pour drained squash and onions into a large mixing bowl.

Add grated cheese, butter, egg, condensed soup and milk. Stir until combined.

Pour into a greased casserole dish.

Top with crushed Ritz Crackers.

Bake at 350°F until hot and bubbly and the crackers are slightly brown.

Remove from oven and serve.
Notes
Nutritional values are an estimate and will vary according to ingredients used and serving size.
Cool and refrigerate leftovers.
Can be frozen.  Cool and place in freezer safe dish or plastic freezer bags.  Thaw and reheat in microwave for about a minute until hot or in the oven until hot and bubbly.
Be sure to drain squash thoroughly before combining so casserole won't be too watery.  The ingredients combine for a rich cream sauce, but draining the water will keep it from being thin.
Nutrition
Serving:
1
cup
|
Calories:
195
kcal
|
Carbohydrates:
15
g
|
Protein:
10
g
|
Fat:
15
g
|
Saturated Fat:
7
g